Scuba Diving
The Riviera Maya offers a great variety of options for certified scuba divers, and is a great location for those who like to get certified. With excellent ocean diving virtually in front of most vacation rentals, world class cave and cavern diving right out the back door, and diving in Cozumel within easy reach for a day trip, this strategic location is a scuba divers paradise.
From Isla Mujeres & Cancun in the north all the way south to Honduras, runs the Mesoamerican Barrier Reef System which is the second largest barrier reef in the world (after the Great Barrier Reef of Australia). Also called the 'Gran Arrecife Mesoamericano', this system covers the whole length of the Yucatan Peninsula and includes the reefs of the Riviera Maya, Cozumel, Playa del Carmen, Puerto Aventuras, Akumal and Tulum. Along the Riviera Maya the reef is located very close to shore, and most dive sites are easily accessed by a short boat ride. Within the area there are more than 14 species of multicolor hard corals, as well as turtles, nurse sharks, bull sharks, eagle rays, barracudas and a stunning variety of fish and mollusks in general.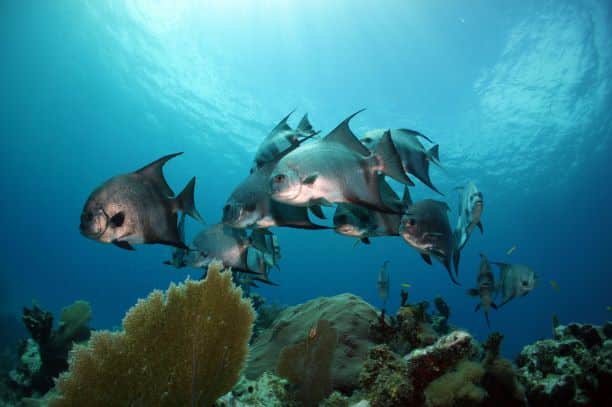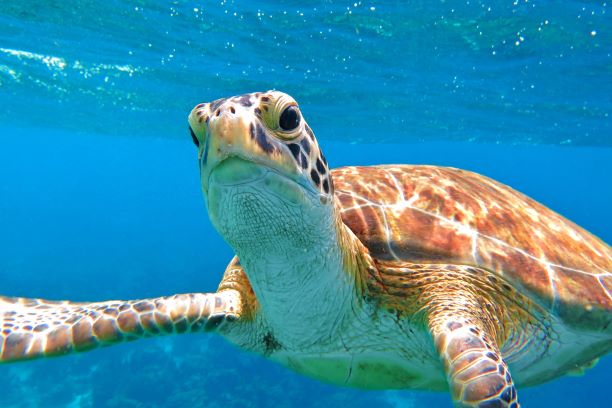 Diving with Turtles
Akumal, or "Place of the Turtles" in the Mayan language, is so named because it is an important turtle nesting area. It is very common to see turtles on the Akumal beaches late at night during nesting season, when the females come ashore to lay their eggs on the exact same beach where they once were born. Diving with turtles is possible all year round in Akumal. The area has a large resident population of Green Sea Turtles, some Hawksbill Turtles and, in breeding season, even Loggerhead Turtles. The turtles of Akumal got used to divers over the years and close encounters are very common.  
Another option to spot turtles when scuba diving, is at one of the reefs near Playa del Carmen. Tortugas Reef owes its name mostly to the countless Hawksbill Turtles that can be spotted here. The reef is a flat coral garden covered with large barrel sponges and the moderate currents make it an easy drift dive. The experience of diving with turtles is one not to be missed while visiting the Riviera Maya.
Diving with Bull Sharks
Another great experience you can enjoy in the Riviera Maya is scuba diving with Bull Sharks. It is a scuba dream come true for divers who want to experience a very thrilling dive. Bull shark diving can be done between November and March, when female Bull Sharks gather just a short boat ride away from the beaches of Playa Del Carmen, to feed for 3 to 4 months before heading south into shallow mangroves to give birth to their "pups".
Professional divers and marine biologists from all over the world come each year to learn more about the life cycle, habitat and social behavior of these majestic animals, more commonly known as one of the less predictable species of sharks.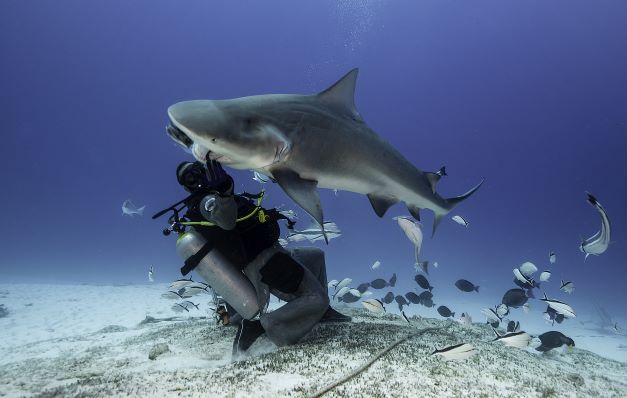 Cenote, Cavern & Cave diving
This is something the Yucatan Peninsula is famous for and the main reason it attract divers from around the world. If you like diving, then you should not miss the opportunity to try a cavern dive. If you really like it you may even want to take a cavern or cave certification course. There are numerous dive sites very close, so drive times are usually under a half-hour.
In diving circles, a "cave" is the term used to describe an underground passageway which is flooded. The "cavern" zone is the word used when describing the area within a cave that is visible to natural light and/or no further than 60 meters (200 feet) from some where you can surface and breath air without the aid of scuba equipment. In Mayan, the word Cenote refers to the caves and caverns found all over the Yucatan Peninsula. Cenotes are the doorways to the underground caves and river systems common to this area. Besides being a source of fresh water, many of these were considered sacred to the ancient Mayans who believed that their gods lived within them. Xibalba (she-ball-ba) was the name the Mayans gave to their underworld and the entrance to it was through a cenote.
Wanting divers to safely experience the wonders of this underwater world without the rigors and expense of becoming fully cave certified and equipped, the diving community has made the "cavern dive" distinction. In the Riviera Maya, instructors who are fully cave certified divers, have been trained to lead open water trained divers into the "cavern zone'' or cenote. These cavern guides in addition to showing you this wonderful underwater world, will provide you with a short safety orientation and briefing on diving in an overhead environment, how not to disturb the cave and the use of lights to communicate. If you are open water certified, have good buoyancy control and are comfortable under water, then you qualify to explore this exciting world under the supervision of a certified cavern guide.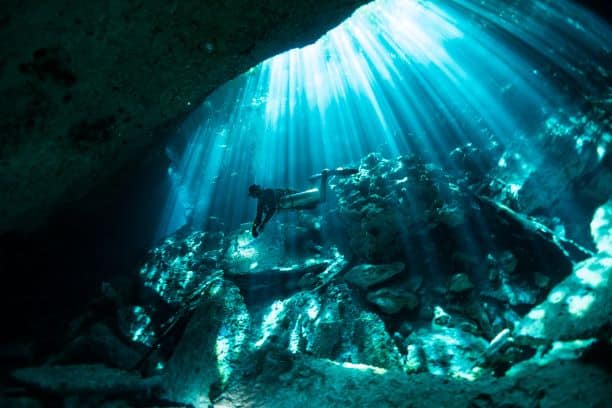 Cozumel Island
The vibrant and lively Cozumel diving scene is world class and known for its leisurely drift dives and stellar visibility. Home to over 500 fish species and a wide variety of hard and soft corals, scuba divers can see turtles, groupers, green moray eels, nurse sharks, the endemic splendid toadfish and lots of colorful tropical fish, on a typical Cozumel diving trip. The coral heads also create a network of fun channels, swim-throughs and wall drifts above steep drop-offs. The island of Cozumel is a 45 minutes ferry ride from Playa del Carmen and can easily be visited during a daytour.