Puerto Aventuras
Puerto Aventuras is a small up market gated resort and residential community with a stunning marina and upscale accommodations, located in the heart of the Riviera Maya, just one hour south of the Cancun airport on a four lane highway. This charming port town is located 20 minutes south of vibrant Playa del Carmen and 20 minutes north of secluded Akumal, which puts it within easy access of all that the Mayan Riviera has to offer. Puerto Aventuras, or simply called 'Puerto' by the locals, is a quiet community ideally suited for families, couples and mature adults wanting a relaxing, safe, resort environment.
Within Puerto Aventuras there is a central commercial area where you will find a number of restaurants, bars, shops, services, activities, and deep water marina, all within walking distance of all the villa and condo vacation rentals we offer. Golf, scuba diving, snorkeling, deep sea fishing, catamaran & speed boat tours and parasailing are all available within an easy stroll.
We have a handpicked selection of very special villa and condo vacation rentals available in exclusive Puerto Aventuras. If you are looking for a villa or condo vacation rental on the Riviera Maya and you desire a quiet place yet want easy access to activities and services, then Puerto Aventuras may be the perfect place for you. Puerto Aventuras is large enough to provide most of the services and activities one looks for in a beach vacation, yet small enough that you can still walk everywhere.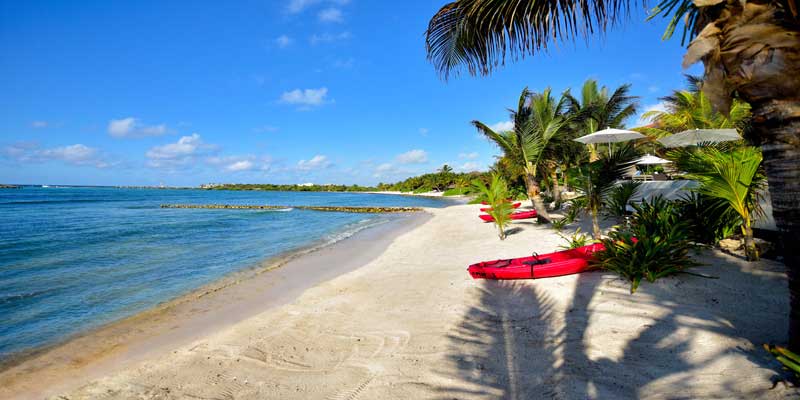 Fatima Bay is the main beach in Puerto Aventuras because of its public access and larger size. It is characterized by soft white sand and a shallow bay protected by an outer reef. This outer reef keeps the bay quite calm most of the time making this an ideal place for bathers.
At the north end near the Puerto Aventuras Beach Club & Hotel the ocean bottom is quite sandy. As you move further south, although the beach remains sandy, there are coral outcrops in the water, which makes for good fish habitat and snorkeling, but requires bathers to use caution or water shoes when getting in and out.
Fatima Bay is an ideal bay to snorkel, especially out near where the reef is breaking. We have personally seen a wide array of fish both small and medium size, as well as various types of rays, numerous turtles, a few eels, and even a small harmless nurse shark.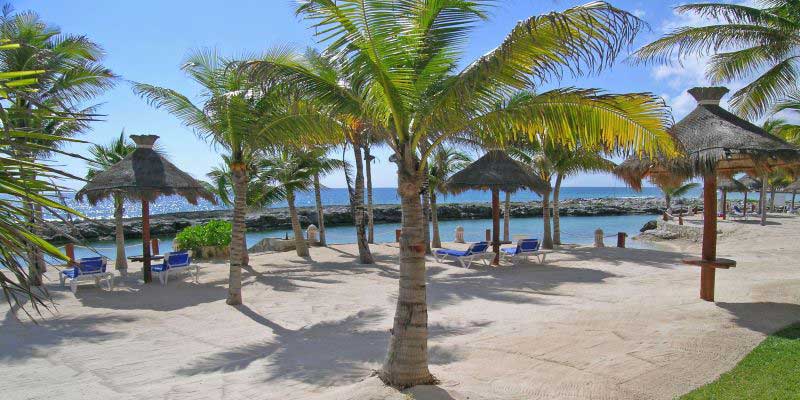 Although all of the coastline in Mexico is public property there is not always public access. When that situation arises, the result will be a beach that is somewhat private. This is the case with the beach on Chan Yu Yum Bay, which is dominated by the Catalonia hotels and Quinta Luna condos on the north end, and the Dreams hotel on the south. Access to the beach is restricted to their guests and those who are staying in one of the villas or condos located at either end who can simply walk down the shoreline.
Smaller than the more popular Fatima Bay, this horseshoe shaped bay is similar in that it is ringed by glorious sand and protected by an outer reef, which makes it an ideal spot for bathers and snorkelers alike. A fairly large saltwater lagoon heads inland from the north end of the bay between the Catalonia hotel and Quinta Luna condos. This lagoon is ringed by a number of condos and a popular spot to kayak.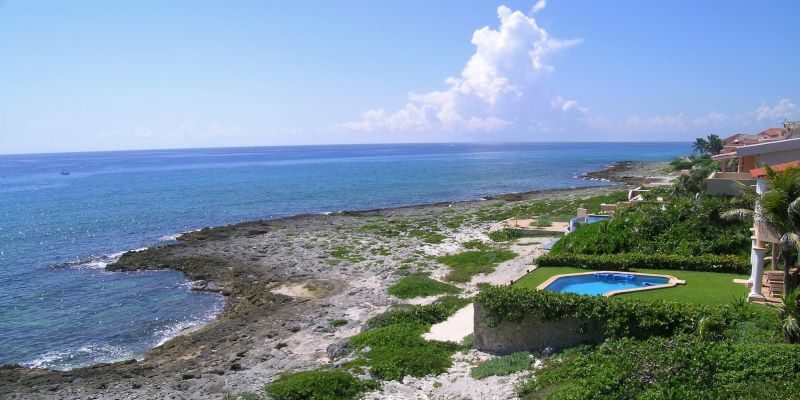 Access to the exclusive Las Rocas area of Puerto Aventuras is by a bridge over one channel of the marina. The flat coral shoreline in front of the private villas located here, is broken up with an entrance into the marina on the south end of the street and Chan Yu Yum Bay to the north. The bay, shared with the Dreams and Catalonia Hotels, is ideal for swimming and is only a short stroll along the oceanfront from any of these villas. The sand from this bay extends part way up the shoreline before ending just past villa Brisa Caribe.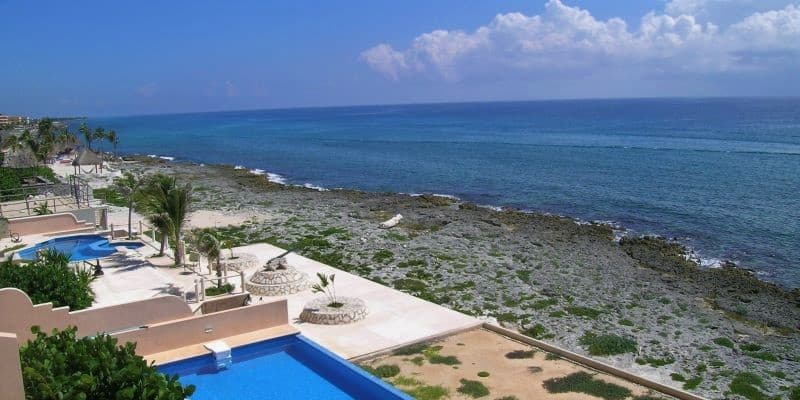 In front of these villas, the coral and limestone outcrop makes for dramatic vistas, provides a soothing rhythm of water lapping against the shore, and is ideal for peaceful strolls combing for shells and other treasures given up by the sea. Because there is no public access to this area, it is also quite private.
At the north end of Las Rocas is an inviting saltwater pool cut into the coral which offer relief from the heat and protection for those who are not so comfortable in the open sea. Along Las Rocas the coral extends out and into the bountiful gin clear Caribbean waters making this a wonderful place to snorkel and dive. In fact you will often see dive boats not very far off shore.