Golf
Golf and the Riviera Maya were not synonymous just a short time ago. However, today the Mayan Riviera has become a golf destination in its own right. With several new courses, the selection of Riviera Maya golf courses is becoming quite plentiful. These are not just golf courses hacked out of the jungle, but sculptured courses carefully planned and designed by major names in modern golf course design who have an appreciation for the game and the environment.
The Riviera Maya golf courses offer a range of diversity and are considered unique because of the weather, beautiful natural surroundings and high quality, including the PGA golf course at Mayakoba. Since the PGA signed licensing agreements to play an annual tournament at the Mayakoba in 2007, the Riviera Maya has become known on the world golf map. Below is a list of areas golf courses starting with the courses just north of Playa del Carmen and then moving south along the Riviera Maya towards Tulum. For more information in general about all golf courses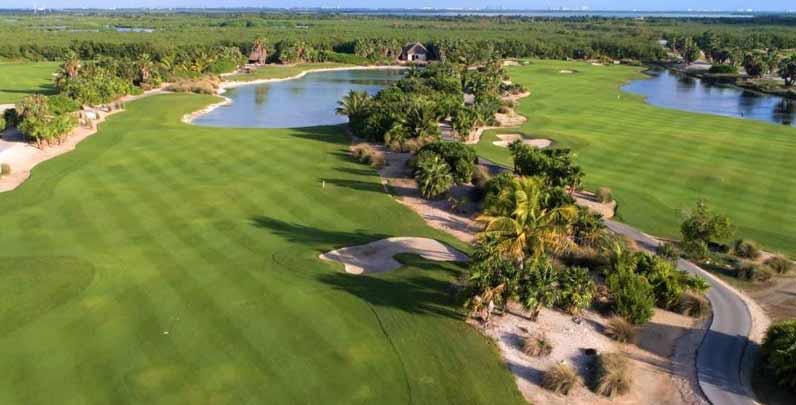 Vidanta Golf Course
Vidanta Golf Course Riviera Maya is a modern Nicklaus Design golf course located halfway between Cancun Airport and Playa del Carmen. This 18 hole, par 54 and 2923 yards long Nicklaus designed course is beautiful and challenging, featuring traps of radiant white sand, lakes surrounded by natural rocks, jungle with many species of birds and reptiles, and intense color of the greens.
Located 25 minutes north of Playa del Carmen.
Iberostar Playa Paraiso Golf Club
Iberostar Playa Paraiso Golf Club is a gorgeous course designed by P.B. Dye and considered one of the area's best. It is a 6712 yards long, 18 hole, par 72 course and home of the Canadian Tour and host site of the PGA Tour Monday Qualifier. Playa Paraiso Golf Course characterizes by its vertical movement and distinctive natural rockwork making this course a true and one of a kind in the Mexican Riviera Maya.
Located 20 minutes north of Playa del Carmen.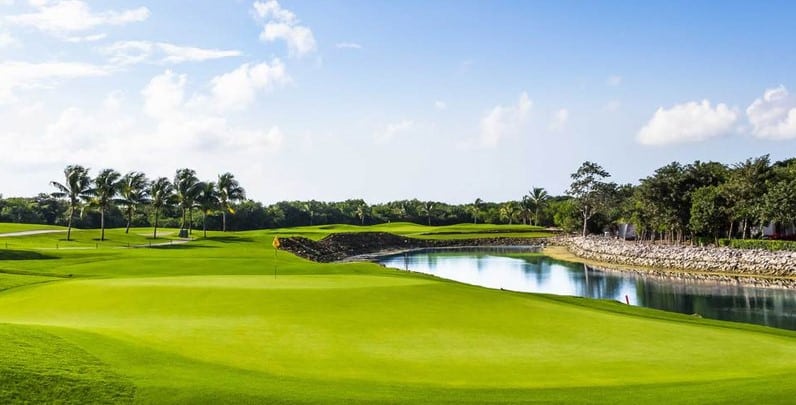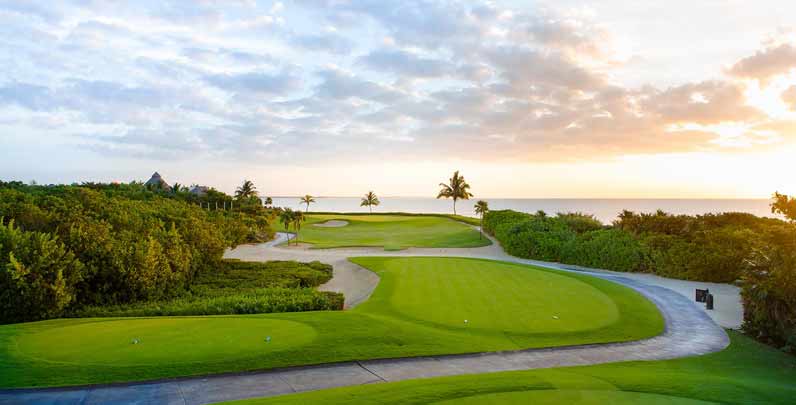 El Camaleon Mayakoba Golf Club
In 2007 the El Camaleon Mayakoba Golf Club became the first PGA Tour event to ever happen outside of the United States or Canada and today it is still the only one. This 18 hole, par 72 and 7039 yards long golf course was designed by the Australian golf legend, Greg Norman. The course has three different types of landscapes – tropical jungle, dense mangroves, and oceanfront, including limestone canals that complete the beauty and the diversity of the context. 
Located 10 minutes north of Playa del Carmen.
Gran Coyote Golf Club
The Gran Coyote Golf Course is a 18 hole, par 71 masterpieces of famous Nick Price, who is a legend in the golf world. This golf course is just a few steps away from the beach and challenges golfers with tricky ocean winds, strategic bunkering, lots of fauna and flora and 7 acres of water hazards. The facilities at Gran Coyote Golf are top-notch, and use of the clubhouse and beach club with its many amenities is included.
Located 10 minutes north of Playa del Carmen.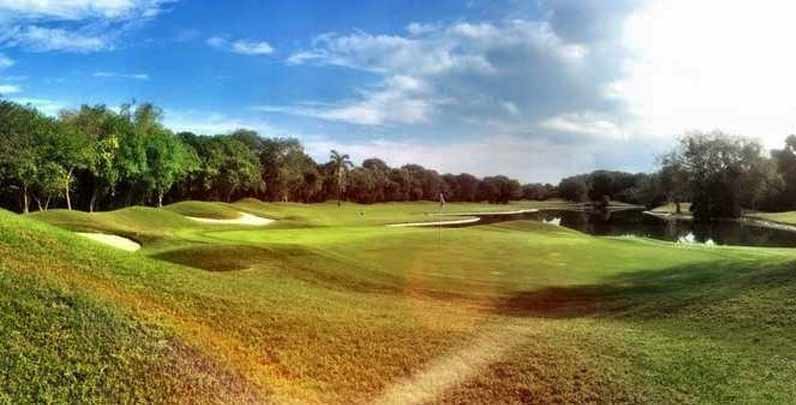 Hard Rock Golf Club
Hard Rock Golf Club Riviera Maya is an 18 holes, par 72 golf course located in Playa del Carmen, inside the beautiful resort area of Playacar. Designed and built under the supervision of the famous architect Robert Von Hagge, this magnificent course measures in at 7,144 yards, featuring lakes and a jungle-like setting with natural fauna and flora from the region, just minutes from the Caribbean Sea and the archaeological sites of the Riviera Maya. Located in Playa del Carmen.
Puerto Aventuras Golf & Tennis Club
Puerto Aventuras Golf Club is a beautiful 9 hole, par 36 golf course and a well-kept secret among locals. This golf course was designed by Thomas Leman in 1991 and is surrounded by palm trees, bugambilias and tropical flora and fauna such as iguanas, deer, and many bird species. This course is ideal for lovers of nature. After play enjoy a meal or cool drink at one of the numerous restaurants along the marina or at the beach. 
Located in Puerto Aventuras.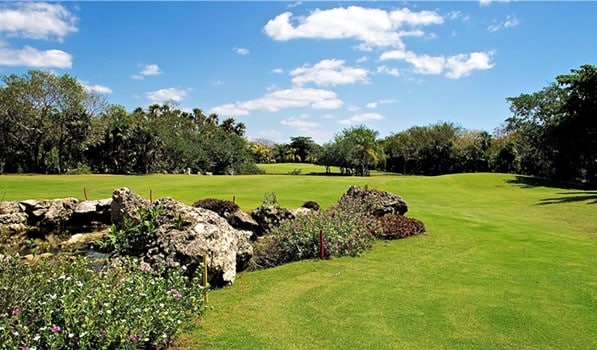 PGA Riviera Maya Golf Course
The PGA Riviera Maya is an impressive landscaping work designed by Robert Trent Jones II and considered one of the area's top courses. This spectacular 290 acre Akumal based golf course, is an 18 holes, par 72 Championship course plus a 9 hole, par 27 Executive course and has been made with very high quality to meet professional standards. The course is focused on preserving the local flora and fauna, with many different tropical flowering trees, natural lakes and cenotes.
Located in Akumal.